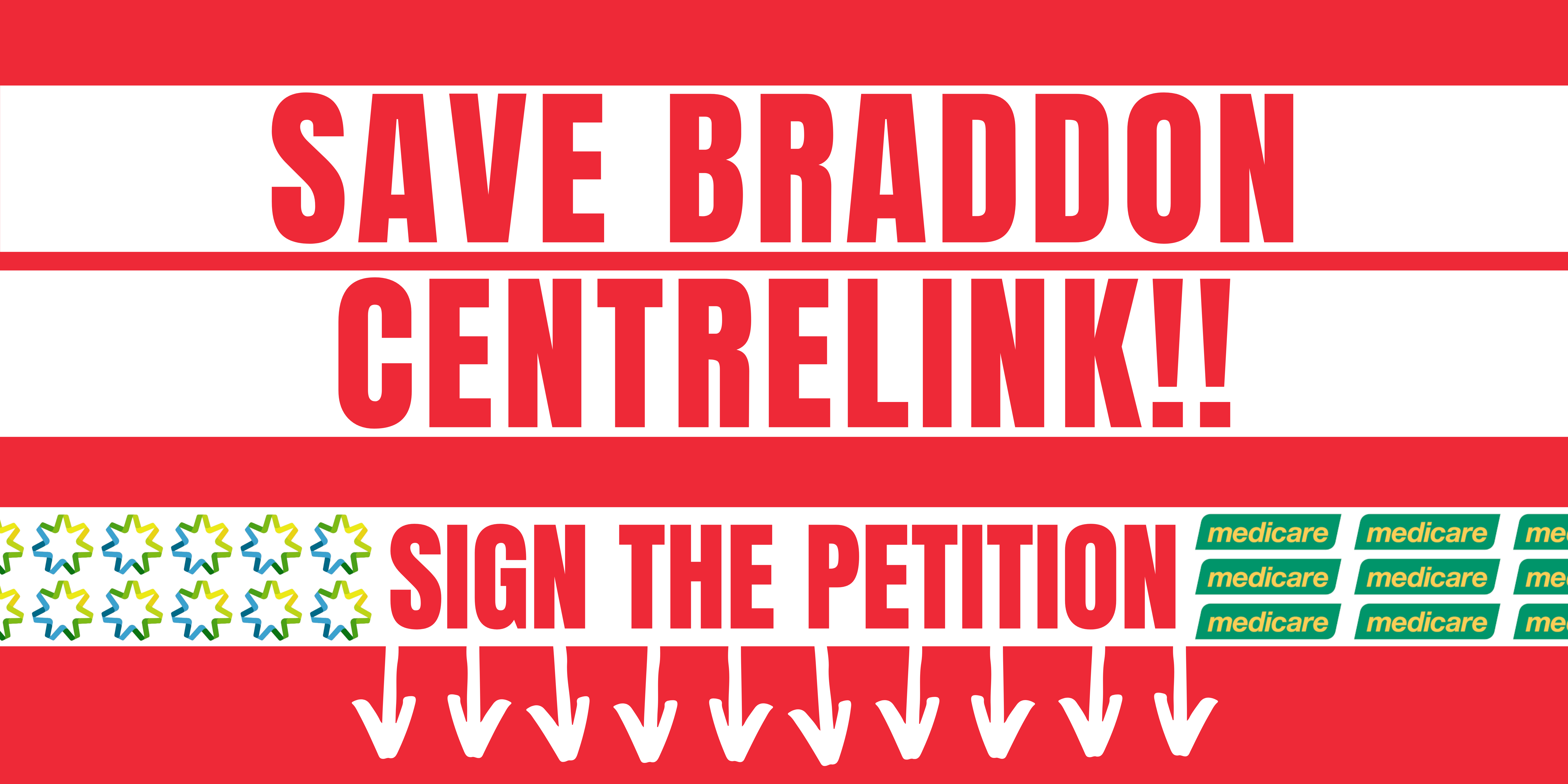 Add your name to the campaign to save the Canberra Electorate's only Centrelink Shopfront.
Central Canberra will soon be without a face-to-face Centrelink service after the Morrison Government confirmed it will close, and not replace, Braddon Centrelink.
I have been campaigning to keep the shopfront open after learning it was under threat after seeing a Facebook advertisement for the offices lease in July. 
Minister for Government Services Linda Reynolds has confirmed in a letter to me that the Braddon service centre will be merged with the Gungahlin shopfront in December.
Minister Reynolds also confirmed that there would be no replacement service in the Inner North and that existing users will be directed to the Gungahlin branch
Braddon Centrelink is a vital service for those living in central Canberra and the only shopfront in the entire Canberra electorate, I am incredibly disappointed by this decision and the way in which they have gone about making it.
There has been zero community consultation around this decision and zero consideration about what this means for users of the Braddon shopfront.
The closure will force vulnerable Canberrans, pensioners, carers, people with disability and students to travel to Belconnen, Woden or Gungahlin to access face-to-face services. The JobSeeker payment is so unreasonably low that even the additional costs of public transport will be too much for some people, including those with burdensome mutual obligation requirements. While it's true that many people deal with Centrelink online, Centrelink's own rules require people to visit a shop front for certain interactions.
Jobs figures from the Australian Bureau of Statistics this week shows 138,000 Australians lost their jobs in September and there were more Australians out of work than in August. This shows how out-of-touch the Morrison Government is.
A record number of Canberrans needed financial help from Centrelink at the start of the pandemic, and there were long lines of people on Lonsdale Street. With unemployment rising in the last month and the pandemic far from over, it is unbelievable that the Morrison Government would rip away this critical support from Canberrans.
I urge Canberrans to keep signing my petition to show the Morrison Government how important this service is for Canberrans.
I will not be taking this decision lying down. I will continue to fight to save Braddon Centrelink.
Please share this petition with your contacts.
I also encourage Canberrans to write directly to Minister Reynolds and ACT Liberal Senator Zed Seselja to express their disappointment at this decision.